Kamis, 23 Mei 2019 17:40 WIB
Ferrari Raih Penghargaan Mesin Terbaik 2019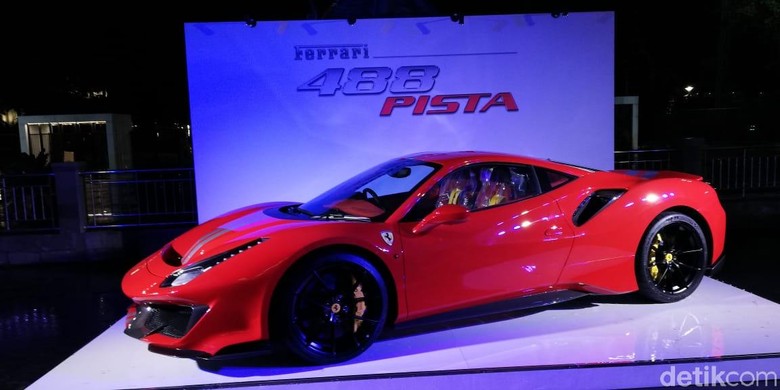 Ferrari 488 Fista Foto: Rizki Pratama/detikcom
Jakarta
- Mesin V8 twin-turbocharged 3.9 liter Ferrari yang diangkut oleh model 488 GTB dan 488 Pista telah memenangkan penghargaan Engine and Powertrain of the Year. Ini adalah penghargaan ke empat kali secara berturut-turut yang diraih oleh Ferrari dan belum pernah ada merek lain yang bisa melakukan hal tersebut.
Mesin ini mengalahkan mesin 3.8l turbo Porsche, V8 4.0l McLaren, dan powertrain dari motor listrik mobil Tesla.
"Sejak diluncurkan di tahun 2016, mesin V8 Ferrari tetap tidak bisa dikalahkan di Engine and Powertrain of the Year Award, memenang 14 trofi dalam waktu 3 tahun. Dan sekarang telah memenangkan juara umum 4 tahun berturut-turut, memperkokoh tempatnya dalam sejarah. Saya tidak yakin akan ada pencapaian lain yang bisa melampau prestasi ini" ujar Wakil Ketua Ferrari, Dean Slavnich.
Penghargaan ini diselenggarakan oleh organisasi Engine Technology International dan telah dikemas ulang untuk menerima mobil listrik Jaguar I-Pace yang langsung memenangkan penghargaan mobil terbaik dunia dan powertrain elektrik terbaik.
Kabar ini membawa angin segar untuk Jaguar Land Rover yang belakangan ini mengalami penurunan penjualan secara berkelanjutan melalui mobil listrik terbarunya itu.
Berikut pemenang dan nominasi sub Engine and Powertrain of the Year Awards 2019
2019 Engine and Powertrain of the Year awards
Sub 150PS
1. Ford 999cc three-cylinder turbo
2. BMW 1.5-litre three-cylinder turbo
3. PSA Peugeot Citroen 1.2-litre three-cylinder turbo
4. Toyota / Lexus 1.8-litre electric-gasoline hybrid
5. Volkswagen 999cc three-cylinder turbo
6. Volkswagen 1.5-litre TSFI Evo
150PS to 250PS
1. Audi 2-litre four-cylinder TFSI
2. BMW 2-litre four-cylinder twin-turbo
3. Ford 1.5-litre three-cylinder turbo
4. BMW full-electric
5. Hyundai-Kia full-electric powertrain
6. PSA Peugeot Citroen 1.2-litre three-cylinder turbo
250PS to 350PS
1. Porsche 2.5-litre turbo
2. BMW 3-litre six-cylinder turbo
3. Audi 2-litre four-cylinder TFSI
4. Honda 2-litre turbo
5. Tesla full-electric powertrain
6. Renault / Nissan / Infiniti 2-litre VC-turbo
350PS to 450PS
1. Jaguar Land Rover full-electric powertrain
2. Porsche 3-litre six-cylinder turbo
3. BMW M 3-litre six-cylinder twin-turbo
4. Mercedes-Benz 3-litre six-cylinder twin-turbo 48V ISG
5. Audi 2.5-litre five-cylinder turbo
6. BMW 1.5-litre three-cylinder electric-gasoline hybrid
450PS to 550PS
1. Mercedes-AMG 4-litre biturbo V8
2. Porsche 4-litre boxer
3. BMW M 3-litre twin-turbo six-cylinder
4. Porsche 3.8-litre boxer turbo
5. McLaren 3.8-litre twin-turbo V8
6. Fiat Chrysler 2.9-litre V6 twin-turbo
550PS to 650PS
1. Ferrari 3.9-litre biturbo V8 (Portofino and GTC4 Lusso T engine derivative)
2. Porsche 3.8-litre boxer turbo
3. Mercedes-AMG 4-litre biturbo V8
4. Audi 5.2-litre V10
5. BMW M 4.4-litre twin-turbo V8
6. McLaren 3.8-litre twin-turbo V8
Above 650PS
1. Ferrari 3.9-litre biturbo V8 (488 GTB, 488 Spider and 488 Pista engine derivative)
2. Ferrari 6.5-litre V12
3. Porsche 3.8-litre boxer turbo
4. Lamborghini 6.5-litre V12
5. McLaren 4-litre twin-turbo V8
6. Tesla full-electric powertrain
Best Electric Powertrain
1. Jaguar Land Rover full-electric powertrain
2. Tesla full-electric powertrain
3. BMW full-electric powertrain
4. Hyundai-Kia full-electric powertrain
5. Renault / Nissan full-electric powertrain
6. General Motors full-electric powertrain
Best Hybrid Powertrain
1. BMW 1.5-litre three-cylinder electric-gasoline
2. Porsche 4-litre turbo V8 electric-gasoline hybrid
3. Toyota / Lexus 1.8-litre electric-gasoline hybrid
4. Volvo 2-litre turbocharger supercharger electric-gasoline hybrid
5. Toyota / Lexus 2.5-litre electric-gasoline hybrid
6. Porsche 3-litre electric-gasoline hybrid
Best New Engine
1. Jaguar Land Rover full-electric powertrain
2. Hyundai-Kia full-electric powertrain
3. Audi / Lamborghini 4-litre V8
4. Renault / Nissan / Infiniti 2-litre VC-turbo
5. Mercedes-AMG 2-litre turbo
6. Ford 1.5-litre three-cylinder turbo
Best Performance Engine
1. Ferrari 3.9-litre biturbo V8 (488 GTB, 488 Spider and 488 Pista engine derivative)
2. Ferrari 6.5-litre V12
3. Porsche 4-litre boxer
4. Mercedes-AMG 4-litre biturbo V8
5. McLaren 4-litre twin-turbo V8
6. Audi 5.2-litre V10
International Engine + Powertrain of the Year 2019
1. Ferrari 3.9-litre biturbo V8 (488 GTB, 488 Spider and 488 Pista engine derivative)
2. Jaguar Land Rover full-electric powertrain
3. Mercedes-AMG 4-litre biturbo V8
4. Porsche 2.5-litre turbo
5. Audi 2-litre four-cylinder TFSI
6. Ford 999cc three-cylinder turbo
7. Ferrari 3.9-litre biturbo V8
(rip/lth)